Signboards & Lawn Ornaments
---
Back in 1988 Peggy and I were groupies with the Lawn Ornaments Band. When I set out to take some slides for a performance light show, we discovered the whole universe of Lawn Wars. Pretty soon I was making and putting out our own ornaments. Another string on my bow.

These acryllic-on-signboard paintings can be divvyed up into a variety of categories:
---
Seasonal Commentary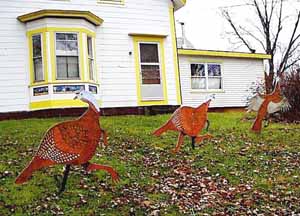 I attempt to illustrate the turning of the wheel and/or the political climate on our front lawn.
---
Political Noises
| | | |
| --- | --- | --- |
| | Sometimes the target is irresistible. | In Egypt |
---
Musical Caricatures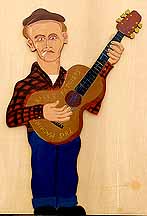 Decorative signs for McBean's Music Store
---
Interior Imagineering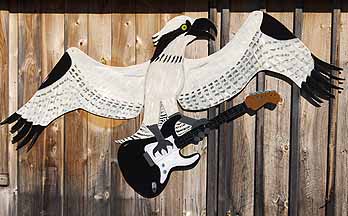 (SagiddyHAWK logo)
Signboard paintings to animate your walls.
---
Commissioned Curiosities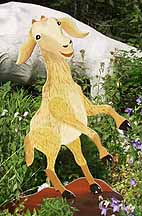 Getting Jo's Goat
You never know what folks will ask for.
---
---