I began concocting wooden images in 1969, and started selling them on street corners in 1971 -- children's playthings, wooden puns, crude scenes, pocket animals, mechanical amusements. A photojournalist did a story about me back then, and titled his piece Bryce The Toymaker. The name stuck. Toys are something you play with in your hands, my carvings were playful --and tactile. I thought of myself as a toymaker for the next 25 years.

Meanwhile the work evolved, became more visually elaborate. During the years our son Seth played in the shop with me, we designed kidstuff, but as he grew up, so did the carvings. Sometime in the 90s I stopped calling myself a toymaker, and admitted I'd become a sculptor.

Making wooden images is still my calling -- my true work -- the thing I do best. Everything else is a side bet. I now work in a clutch of other media, but this is the game I play for mortal stakes.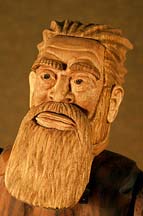 John Brown