Bryce Muir
A local artist on the Web
1946-2005

"The Toymaker"

[Painting by Bruce Kaminski]
---
Bryce died in 2005 and anyone wanting information should contact me at pegbryce@comcast.net.
---
GALLERY MUIR


from Swan Lake
[Drawing by Peggy Muir]

Current Show

Peggy Muir
Dance Moments
and Faces

Permanent and changing shows at our virtual gallery

BRYCE TAKES


FINAL TAKE

Bryce Leigh Muir
died on December 14, 2005.
He drowned after
falling through the ice while skating
on the Cathance River.

Bryce's Last Take #348
12/14/05

Last Seven Days

THE BRYCE SITE


Wayland
[360 degree view]

Collections of carvings, drawings, illustrated journals, etc.
---
---
Special Feature
Memories of Carlo Pittore
Images of Carlo, his drawings and paintings.
Also recordings by and writings about a special friend.
---
---
---
---
---
---
---
---
Landscapes & Illustrations
(Includes Drawings of Bowdoinham)
---
Ink Sketches


(Hupper Island Scene)

Photos


(Season's End)
---
Musical Notes


A Blues Buzzard
(Painting by Liz McDorr)

Collage


(Naked Book #1)
---
Other Writing


(A Family Tale)

Other Capers


(Icosa Chair Model)

Miscellaneous Mischief
---
Native Apparitions
---
American Sabbatical
Peggy had a sabbatical in 1996-97 to visit historic sites. The Muirs sent daily e-dispatches from the road to a widening circle of correspondents. They also drew, painted, and took photographs of the sights. Now their complete illustrated road journal has been posted to their American Sabbatical web site. Come for a ride across America.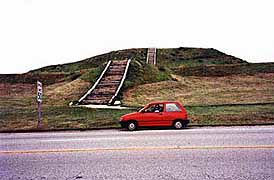 ---
Subscription
If you would like to receive notification of new web postings on this site, send me an e-mail. Put "Subscribe" in the subject line. To delete your name from the postings subscription list type "delete" in the subject line. I periodically lose my address book, so if you aren't getting any notifications, please send me an e-mail. Thanks.
Click here to send e-mail.
(bryce@brycemuir.com)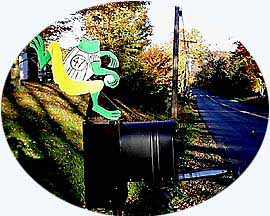 ---